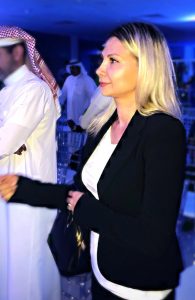 Cryptoxygen, the 2019 startup integrating crypto and wallet into an iconic electronic brand Thomson Computing from France and its OXY2 tokens had decided to push its tokens live through an international reputed platform Sistemkoin.
Starting 23rd of April 2019, Sistemkoin would be offering to its registered users OXY2 tokens at the price of 0,18 USD per unit with unlimited purchase quantities.
"Actually, we decided to launch our product on Sistemkoin based on our benchmark and market user assessment aligned with Sistemkoin presence and facilities" expressed Irina Duisimbekova" and we highly benefited from their experience and ease of doing to process the listing"
Sistemkoin, a multi-exchange decentralized platform launched its operations in Turkey with the listing of several cryptocurriencies and IEO.

The company has today more than 300k registered users with a confirmed and certified daily users of 7k-8k and more than 100 million USD daily transaction volume.
His Director, Mr Tolgahan Colpan dedicated his platform to the launch of unique projects with the aim to boost the visibility and presence through its large corporate and institutional buyers.
"Cryptoxygen is one of the promising project with their professional and informative team members, I sincerely believe that this cooperation will lead to achieve projects goals and serve its investors for the long term" – says Mr Tolgahan Colpan about Cryptoxygen tokens, "the pre-information pitch we provided to our clients highlighted the attractivity of this association with a historical French brand, such as Thomson Computing where the tokens would be displayed all around the world through the sales of notebooks".
"Cryptoxygen aims to be listed on several platforms within 6 months" added Alexandre Katrangi, one of the founder, "and we have constant Board meeting with Stephan Francais, our partner and founder who's handling Thomson Computing to maximise the official presence of OXY2 tokens on all Thomson Computing products on the 1st June 2019 worldwide"
Thomson Computing which jingle has always been #technologyforall dedicates itself to enter into the blockchain with #cryptomoneyforall as part of its initiative to provide access to technology everywhere for everybody.
Stephan Francais, its owner and President had been awarded the title of "Entrepreneur of the Year" in 2018 and nicknamed "the Gallic Steve Jobs" by the international medias in reference to its vision to grant the world with easy fast access affordable technologies.
More to follow in 2019 with Cryptoxygen and their unique concept…
To access to Cryptoxygen IEO, visit: https://sistemkoin.com/#/ieo
@irinaduisimbekova #cryptoxygen @cryptoxygencoin
#irinaduisimbekova #alexandrekatrangi #stephanfrancais #thomsoncomputing
————————————————–
It is a sponsored article.